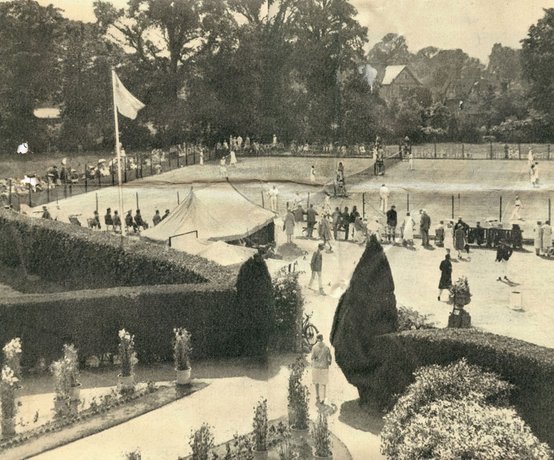 How it all began.
Before Chestnut Road was developed it formed part of the Morrant Hall tennis courts, this picture shows how it would have looked c.1935. At that time it was as important as Wimbledon is today, with 17 courts both grass and hard and also indoor squash courts with a magnificent hall and stage, plus a large refreshment area. People would arrive by train from London for the week long tournaments. Unfortunately, as was the demise of many other large estates, the second world war and the lack of upkeep saw it decay and it was finally sold.
In the late 1950's early 1960 the whole site was split into building plots and developed. It was then that Iain bought the plot and built the house and established the boundary hedges. The beach hedge at the bottom of the garden has still got the remains of the tennis court boundary fence in it.
As tennis courts you may believe that we had a head start with the lawns, but nothing is farther from the truth. The whole area is very compacted with the remains of old cinder pathes and odd bits of iron work, broken crockery and old land drain.